Hunt Seat Equitation Clinics
"Every Detail Counts"
Your balance, position, attitude, and level of patience are the most important things in your riding. Everything you do will either educate or confuse and mislead your horse. Let me help make you the rider your horse wants. 

Clinics will work on the skills of YOU, the rider, so that you may complement your horse with the least amount of interference. With that, many improvements in your horse will be made as a result. 

MANY LESSON PLANS ARE AVAILABLE ACCORDING TO YOUR NEEDS.

1 and 2 session clinics;

Flat, gymnastics, and course work.
Private sessions.
Specific problems addressed. 
Limited number of clinics being planned for 2023.
Call or message to schedule yours! 
315-292-0438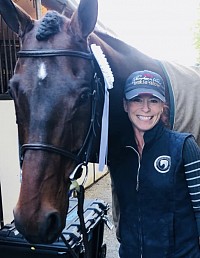 Professional Biography:
Tracy is a 30+ year instructor of the hunter seat discipline. Her business, TAPS Training and Showing,  began during college, where she earned an Applied Science Horse Husbandry Degree. TAPS began in 1989 and has been her way of living since. She has taught 10's of 1000's of lessons over the years and now wants to help others that are interested in her experience. She is the senior trainer at North Riding in Cleveland, NY (owned by the Duggleby family). She also manages a Hunter/Jumper show series at the farm. She is an IEA approved judge, a USEF Steward, a committee member and a Stable Management Clinician for the USHJA Emerging Athletes Program. She has coached students to numerous championships in IEA, as well as Zone II Hunter Finals, and the EAP Nationals. Also collecting ribbons at the Pennsylvania National Horse Show, Washington International, and Devon. 
Her riding career came to a halt in 2006 after suffering a stroke and then receiving the diagnoses of Lupus and a blood clotting disorder, which left her on multiple anticoagulants. Now when she does ride it is more for fun than training. Teaching has always been more fulfilling to her and that is where her business remains.